Bel Air Logo Aluminum Valve Covers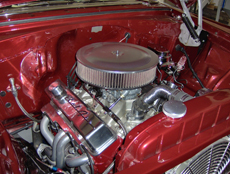 New Item!
These "tall" small block Chevy polished aluminum valve covers are dressed up for show with chrome Bel Air emblems on them. They have the look to really trick out your engine compartment. Coming soon are small block polished aluminum "short" valve cover with the Bel Air emblem and small block "tall" and "short" valve covers for 210 and 150 model Chevy's.
Plexiglass mesh speaker bezel replacement

Now Available!
Update that 55 or 56 Chevy steel mesh speaker bezel with a new black
Plexi-Glass bezel. Just bolt it into the original holes and you're done. Comes
with gold Bel Air script or chrome Chevrolet script and instructions for
installation. Available at Danchuk or Eckler's.
Quad-Mat Sound Deadener

New Product!
Stop the noise and get rid of the heat at half the price of other
similar sound deadener products. Use our Quad-Mat and see how much better our product is and how much money you can save by doing your car with Quad-Mat. Find out more about this great product at www.quadmat.com
New Waterproof Panel Material for 1955, 56, 57 Chevys Only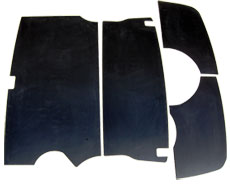 Now available:
Trunk panels are CNC cut from ¼" waterproof plastic. Plastic panels can be upholstered to match your custom interior. This panel material can be glued, stapled or painted and can be routered for a unique design.
SpeakerTrunk Panel Kits for 1955, 56,57 Chevys
Made of molded ABS these cover our trunk panels to give you a custom look with speakers.

Made in USA
CNC Cut
Precise Fit
Available with or without 4 Kicker Brand Speakers, 200 Watt Amplifier and Wires
No Fasteners
Easy Install
Save Time, Labor, Money
Ready to Upholster or Paint
CTP 6 Piece Speaker Panel Kit

Front Panels for Kick Pad Area
Floor and Back Hinge Panel
Fits All Hardtop, Sedan & Convertible Body Styles
Convertibles Require Minor Side Panel Trimming
No Drilling Needed
Requires Removal of Trunk Floor Spare Tire Hold-Down Bracket

| | | |
| --- | --- | --- |
| Rear Speakers | Front Speakers | Both Speakers |