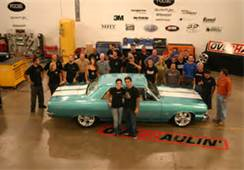 We are proud to announce that Bill Dunn is now a distributor of our trunk panels. Check out his website www.billdunn.com You can click on the link we have on the " where to buy page" and go right to Bill Dunn. Here's some more info about Bill Dunn;
Featured on the Velocity's Hit TV Series "OVERHAULIN'" as well as SPEED Channel's "Hot Rod TV" and "Chop Cut Rebuild". Bill Dunn upholstery has made a statement in the industry with its immaculate and no compromise craftsmanship in custom fabrication for automotive and nautical industry.
Today, Bill Dunn One Stop Shop, under the ownership of Hector Cisneros, continues a winning tradition of quality craftsmanship. Their dedication to upholstery alone has produced a loyal fan base that now successfully reaches across to window tinting, car security applications and audio/visual installations.
Bill Dunn One Stop Shop caters to all commercial and residential automotive makes and models, including boats, RV's and classic cars.
Over the many years, one important lesson learned is how attention to detail is paramount along with keeping the job focused on quality in a timely manner, and within budget.
Bill Dunn continues to strive in satisfying car owners, dealerships and others who identify with their "Service First" attitude. That's why the motto was adopted, "It's as Good as Dunn."
Call Hector Cisneros and get your car project "Dunn Right"! Call 714.848.3985